How I Received My Associate Coaching Credential from the International Coaching Federation
I wrote this post for coaches that are in a structured International Coaching Federation (ICF) aligned coaching program and are considering completing their Associate Coaching Credential (ACC) through the Portfolio Method.  

*Please note: I applied for my credential before the coaching core competencies were updated in 2020.*
Why the Portfolio Method?

It is important to make sure you get clarity on whether your program is aligned or accredited by the ICF.  That will determine the method you use when applying. I completed a professional coaching program that was not accredited by the ICF. 

Why Are You Applying for the ACC?

It is also important to understand why you are pursuing the credential:
Take a deep breath, and ask yourself why. Why are you seeking and investing in a credential?  If you do not plan to work in the corporate space or you do not have the resources to cover the cost of getting the credential and covering the renewal, then you might want to reconsider getting the credential. There are a lot of coaches that have successful businesses without getting an ICF credential.   I work with larger corporations and executives who see value in my external credentials, so it makes sense for me.
Hard Time Navigating the Website
I had a hard time navigating the ICF website to begin the credentialing process. I even had to get on a phone call to pay to have my application open. I started the process on December 23, 2019, and I received my credential on February 24, 2020.
There many resources on the ICF website, but I wanted to provide some additional insight you might want to keep in mind.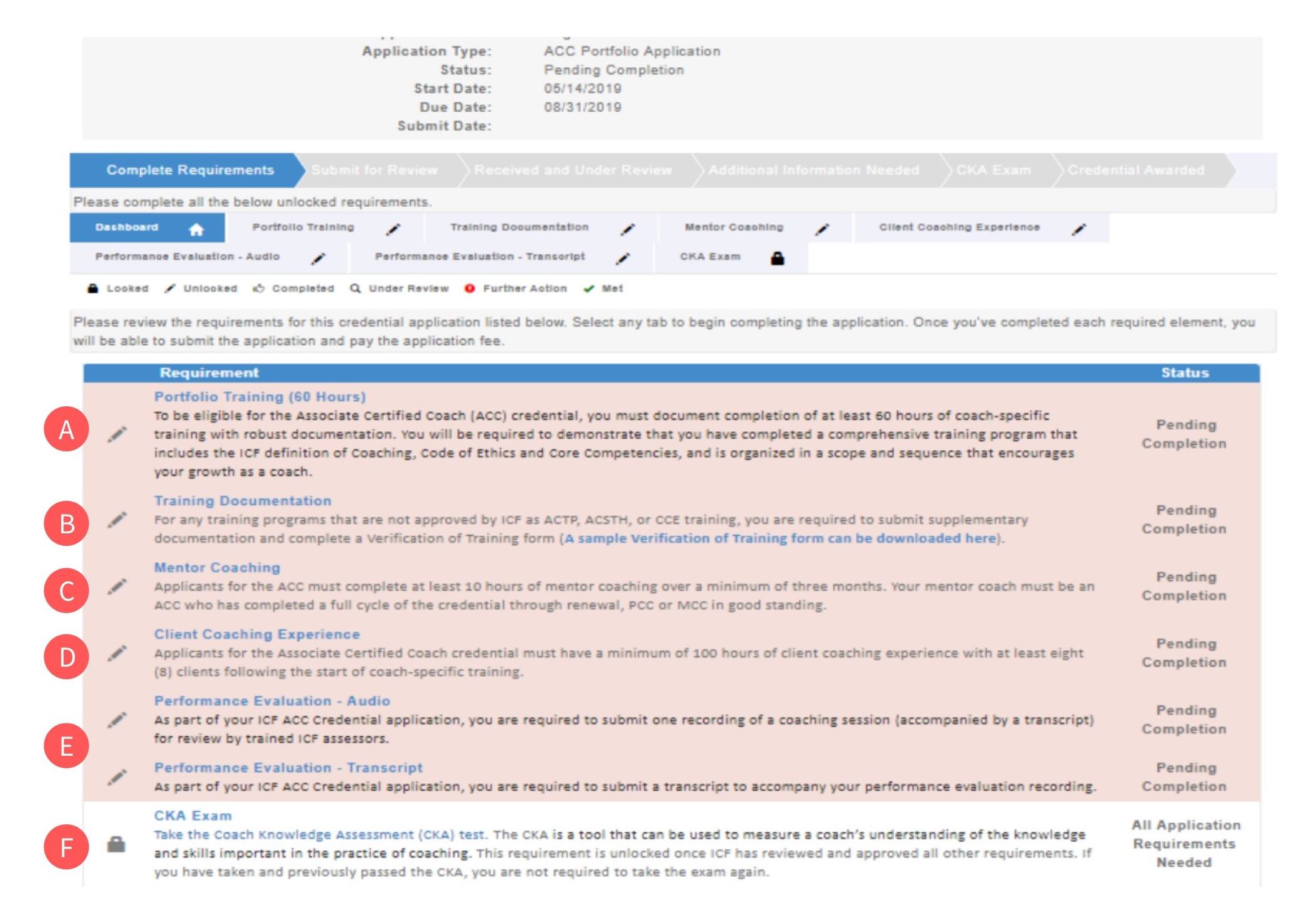 (A) Portfolio Training – I uploaded a curriculum document that included all the topics covered and the hours it took.  You can get in touch with your program if you do not have it already. Make sure the hours add up to at least 60.

(B) Training Documentation - Keep track of all your program documents and scan your program certificate. I uploaded PowerPoints and PDFs related to my training and made sure to name all my documents with appropriate file names.
(C) Mentor Coaching – I completed mentor coaching as part of my coach training program. It will be important to determine if you have mentor coaching as part of your program or if you need to find and invest in an external ICF PCC or MCC coach.  Keep track of all your hours and the contact information of your mentor coach. 
(D) Client Coaching Experience – This one was surprising. All you must do is tick a box to say you have completed your hours.  You do not have to upload your tracking document, but it is still important to keep track of your hours and who you have coached.  Look at my post on how I got my 100 hours for tips on how to ensure you have all the relevant information in case you are audited by the ICF.
(E) Performance Evaluation Audio & Performance Evaluation Transcript – Have someone from your program or your Mentor Coach listen to your recording before you invest in having it transcribed.  You will not receive the audited results of your audio until you pass your CKA Exam. ICF will send you specific feedback in an email along with your results. 



(F) CKA Exam – This will only be unlocked when you have submitted everything else.  Make sure you set aside enough time (3-hours maximum) and have a good internet connection to complete the online exam. The exam platform is clunky and a bit difficult to navigate. The test invitation is active for 60 days and the test invitation can only be used for one testing session.  You do not have to keep track of questions you don't know the answer to. You can mark it and come back to it later. I recommend trying to go through the multiple-choice exam as quickly as possible. There are 5 sections of content and over 100 questions in the exam. Take a look at the screenshot below to see the topics. Your results will be immediate.  Here is a post from another coach on the exam and how to study.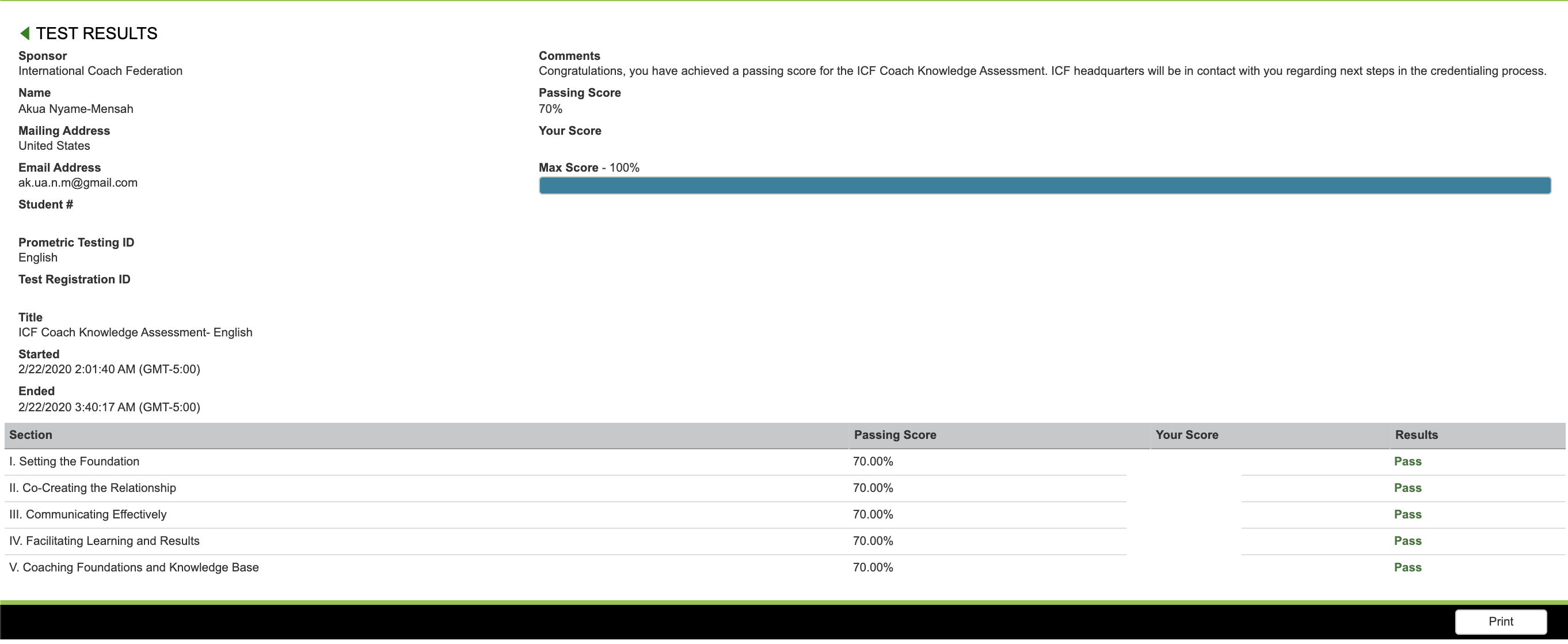 When you pass your Performance Evaluation, you will receive a congratulatory email from ICF a few days later.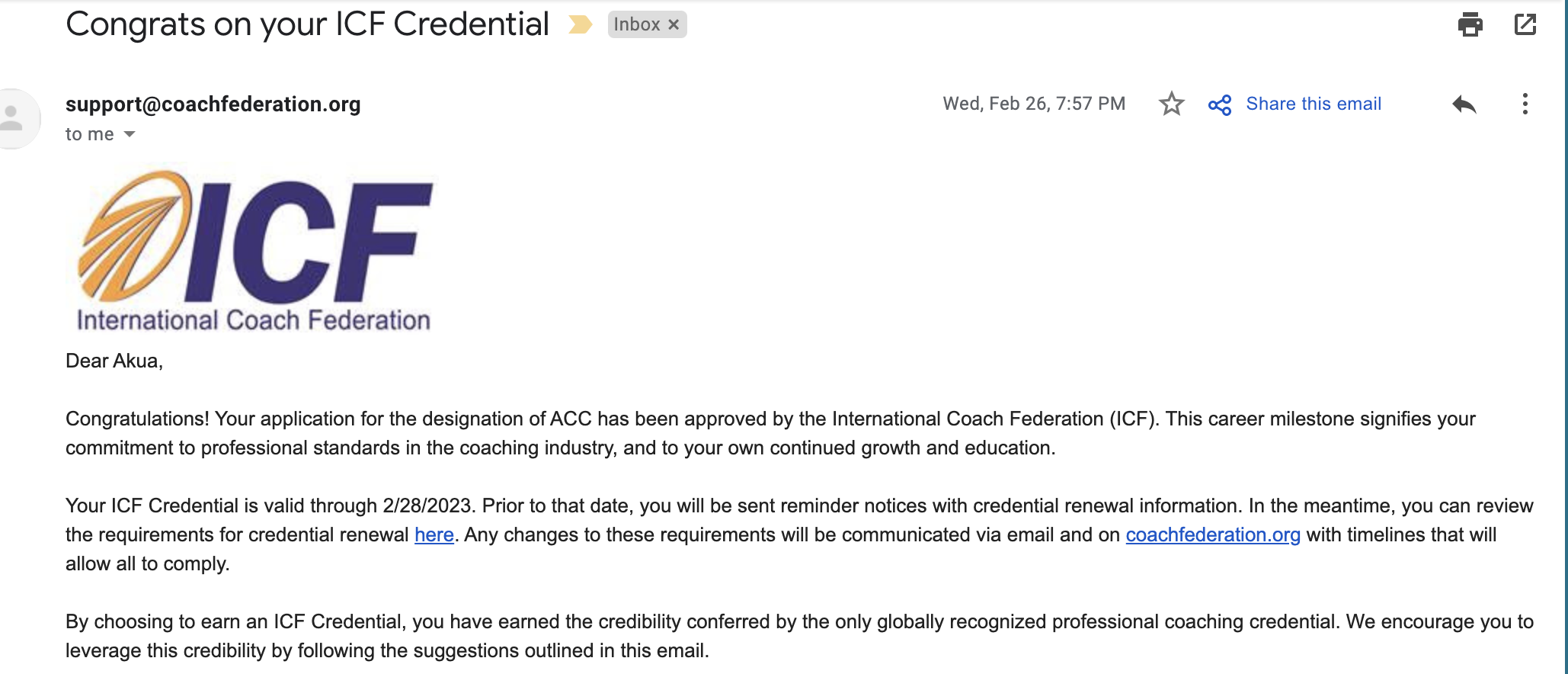 Please feel free to drop me a comment if you have a specific question. If you want more in-depth strategic support and advice to complete your ACC, please feel free to sign up for a 45-minute consulting session for Consulting for New & Aspiring Coaches by getting in touch here. 
Leaders aren't born; they're made.
This 5-minute assessment will help you understand what leadership stage you're currently in so you can determine your next steps.