"ONE OF [THE] BEST WORKSHOPS [I'VE ATTENDED] SO FAR BECAUSE OF THE LEVEL OF INTERACTION. UNLIKE MOST FACILITATORS, SHE WAS AN EXCELLENT LISTENER."
#IamRemarkable strives to empower women and underrepresented groups to speak openly about their accomplishments in the workplace and beyond, thereby breaking modesty norms and glass ceilings.
Akua is an #IamRemarkable Gold Tier facilitator, which means she is one of the top 100 facilitators of the over 7,000 trained facilitators worldwide. Akua conducted 27 sessions in 2020 (see her statistics
here
) and her work has been featured on the #IamRemarkable Google Site (
link
). She is passionate about providing leaders a safe space to explore their relationship with self-promotion because it is an essential skill that many leaders (including her!) overlook.
"….thanks for sharing so vulnerably from a personal and business perspective what you've learned and how you've grown in both areas. So important to share this brave message about self-promotion..."

- CEO of a HR Consultancy 
The 90-minute workshop (open to both women and men) helps participants learn how to speak openly about their accomplishments. The workshop is divided into three parts:
Discuss: Data and research about self-promotion and unconscious biases.

Practice: Main exercises to help participants articulate their achievements and practice self-promotion.

Go home strong: Discussion and take-home exercises.
GOAL:
Improve the motivation and self-promotion skills of women and underrepresented groups

Change social perceptions and refresh the conversation around self-promotion
This workshop is not intended to undo centuries of bias and discrimination but rather focuses on one small, but important, action that each of us can take (and model for others). Change is rarely accomplished in one sweep but rather in small, consistent choices we make daily.
OBJECTIVES:
Address our own biases against underrepresented groups and women who vocally express their achievements

Identify the challenges around "bragging"

Increase levels of confidence and self-worth for everyone attending

Identify and utilize power sources for effective self-promotion

Uncover and utilize the potential of group sharing

Practice vocally expressing achievements

Create a safe space where everyone feels comfortable sharing
You can find more information about the initiative
here
.
Akua has conducted the session for companies, leadership teams, boards, volunteer organizations and associations.  It is a great way to build the confidence of association members and is also effective as a team building exercise to help teammates learn more about each other and encourage them to advocate for themselves.
Akua conducts 
ONE
 virtual (Zoom or your favorite video meeting app)
each month of the year.  Her facilitation is free of charge, but expects that you would:
Convene and secure the audience (team or group of 10 – 20 individuals. It can be smaller but the session is more impactful with at least 10 people)

Confirm the time, select the video meeting app and share the details

Provide details to ensure that I can customize the presentation for your audience

Remind attendees to RSVP and complete the post-survey

Write a testimonial, agree to serve as a reference, and/or have at least one meeting where I share my paid workshops and discuss possible introductions to people you know who might also find value in my paid services.
WHAT OTHERS HAVE SAID ABOUT AKUA'S FACILITATION: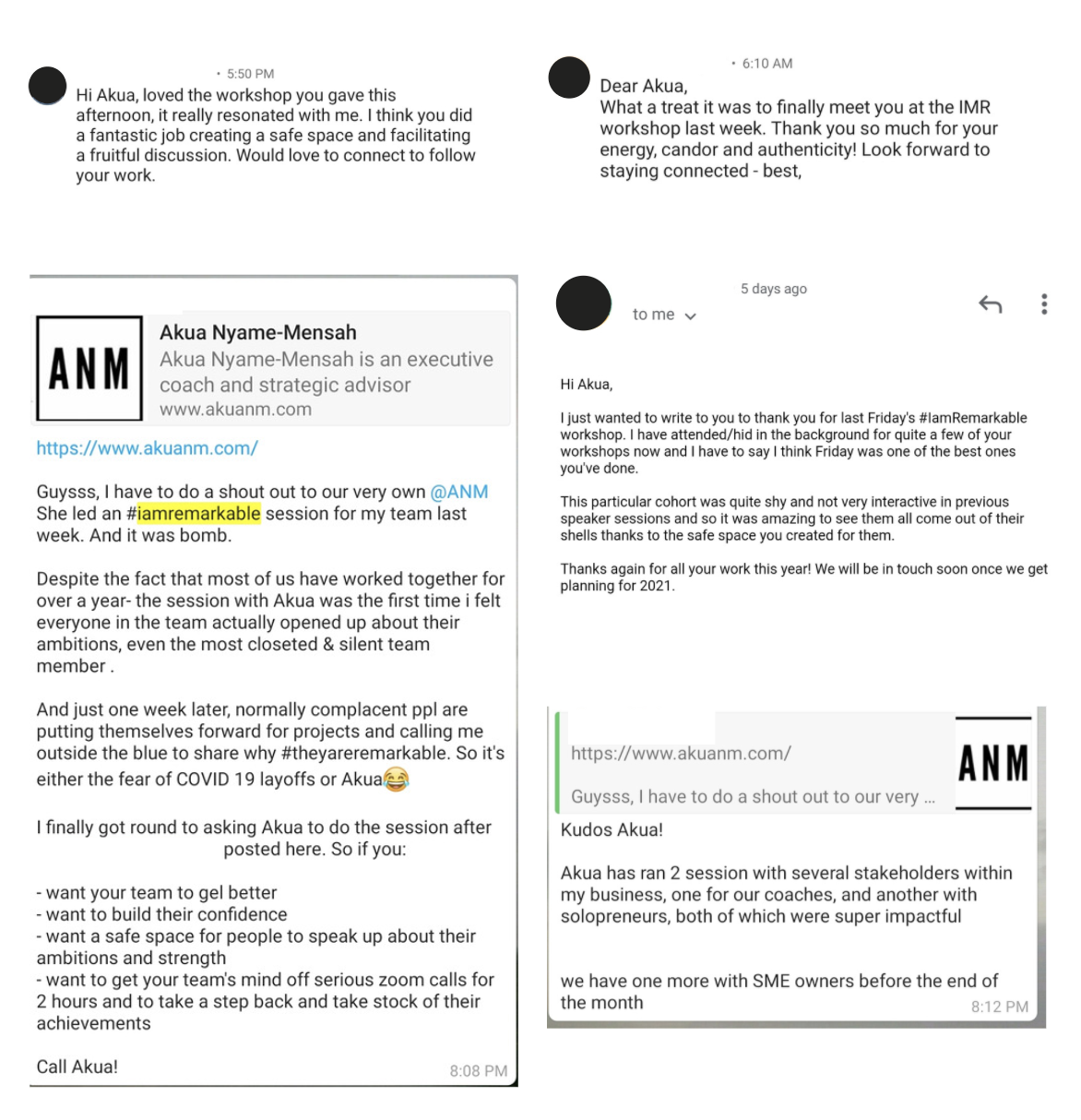 "It's very engaging and I wish there was more time."
"She was very engaging and stirred the discussion in a very participatory manner."
"In total honesty, Akua made it worthwhile right from the moment it started till we were done."
"It was a really engaging workshop and the size allowed for adequate participation."
"One of my best workshops so far because of the level of interaction. Unlike most facilitators, she was an excellent listener."
"Ability to get people talking. Initially, most of the attendees were not contributing, but later she was able to get everyone to contribute willingly."
"It felt good to know that I was not alone and that there were practical ways to go about changing my mindset about self-promotion."
"Excellent workshop!"
"The facilitator was engaging and the time allotted was perfect"
"I love the fact that we are very few in number and so we were able to share personal things and be more open with one another"
"The seamless way she carried everyone along"
"The session where we talked about our achievements was liberating"
"It made me rediscover myself."
If you are interested in one of Akua's team or leadership focused workshops, please get in touch: akua@akuanm.com.