BURNOUT IS NOT NEW.
WE ARE ALL OVERWHELMED.
It is just now becoming something we all take notice of:
Over 70% of employees report feeling burnt out and disengaged.

Close to 70% of employees are experiencing burnout symptoms even while working from home.

75% of the workforce say their bosses are the most stressful part of their jobs.
Burnout and stress are not limited to those of us who work full-time or lead a business:
Over 80% of college students reported being overwhelmed by all the things they have to do.

Almost 40% of college students reported feeling so depressed it was difficult for them to function.
$7 trillion is lost in productivity globally, and the answer is not an attitude adjustment or extended holiday.
True productivity is not about doing more.
Akua offers keynotes speeches, seminars, two-hour to three-day workshops and remote sessions on leadership, productivity and team building.  When you book her, she will work with you to design a customized program to meet your goals and your audience's needs.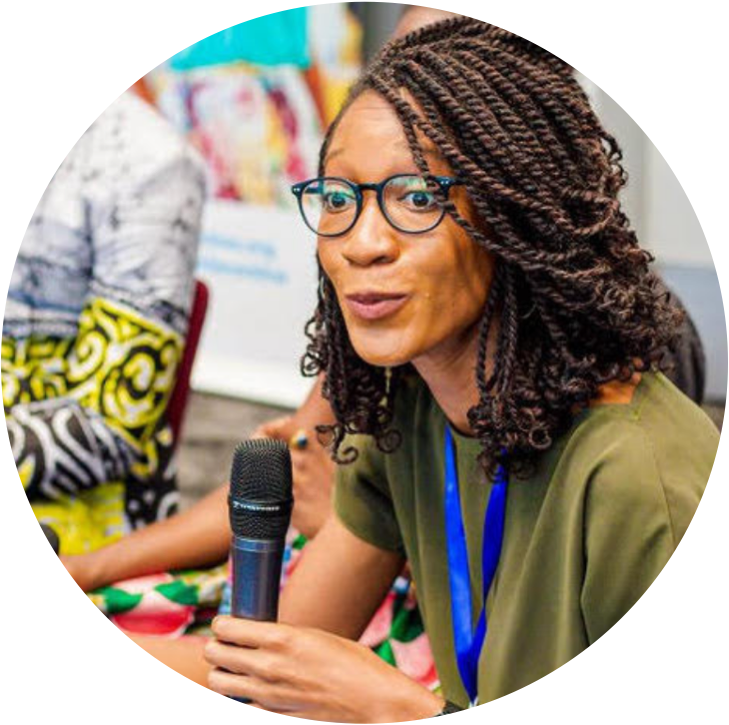 Akua Nyame-Mensah, is a certified executive and leadership coach (ICF), recognized facilitator, and speaker. As a former startup executive, she launched an online platform for the first African-based technology unicorn Jumia Group. Akua has had the opportunity to live and work in the U.S., Nigeria, Ghana, Kenya, and South Africa and has consulted in and visited over 30 countries worldwide. In her work, she loves combining 'traditional' coaching approaches with leadership psychology, neuroscience, emotional intelligence research, and what some might consider spiritual or 'woo'. Akua speaks on leadership, productivity, and mindfulness.
SIGNATURE TOPICS
Leading in a Remote World

How to Build an Engaged and Mobilized Team

Cultivating Self-Awareness

Coaching Tools and Techniques

Mindfulness and Productivity Linkages

Resilience for Leaders

How to Increase Influence and Be Inspiring

Goal Setting and Strategic Planning




and more....



PAST PRESENTATIONS INCLUDE:
"Thanks again for supporting FI Accra. Your presentation was absolutely one of the best thus far, and we've truly had some excellent ones over the couple of months the cohort has been underway.

Moving online set the cat amongst the pigeons, and often requires a different style of presentation skills to ensure engagement and alertness of the audience. I think in your case, you are naturally engaging, but regardless it was great to see how the Founders responded to your slides, to your questions, and your general interactiveness. It was a great lesson for them in general, but particularly given some were picked up during their Hotseats for being dull/unenthusiastic. The content was very good too, and as you were so open and frank in balancing theory and practise with personal experiences you found the absolute sweet spot."

Simon R Turner

Director, Founder Institute Accra

"I had no concerns asking Akua to host a session for the Wine & Whine community. Akua delivered the session with a lot of patience and guidance. She was very insightful and knowledgeable. The session was perfect for my community and I would recommend that you attend one of her sessions if you have a chance."

Damilola Odufuwa

Co-Founder, Wine & Whine

"I am very comfortable with Akua's style, knowledge, and delivery. We work as a wonderful team together when delivering workshops. I would describe Akua as an engaging, knowledgeable and open presenter and speaker."

Charles Ojei

CEO, HYBR Group

"The discussions with people from various fields giving feedback on how we see the same situation differently was great. Her session reminds you of methods you have forgotten or may have not considered as a vital part of your company growth"

Emeka Okocha

CEO, Nothing To Do In Lagos

"I was not sure what to expect and if it would be valuable, but the key messages are simple yet impactful. Sharing experiences with professionals from industries outside my sphere including creative and tech was my favorite part of the session."

Yetunde Oladeji

Associate Director, PwC

"From the masterclass, I learnt that every one that is motivated differently. It is very important to study each employee (if you can) to be able to keep them motivated. After the session, I felt very enlightened and assured that when I move to a bigger team, I will reach out for professional support for myself and the team. If you are thinking of attending, you should attend but ensure that you keep an open mind."

Feyi Sowunmi

HR Manager, OCI Travels & Tours

"It has been such a pleasure working with Akua, she has been vital part of multiple informative events which tackled pressing issues in the payments, fintech and banking sector. Her willingness to engage with other conference attendees and speakers, have honest conversations, and pledge to work together with other players to provide effective payment solutions will have a lasting effect on the industry.


Akua's positive attitude, professionalism, and enthusiasm has made our time together productive and fun."

Molly Newman

Conference Director, Terrapinn Ltd

"During the masterclass, I learned the importance of communicating my expectations and getting feedback on my performance. I also learned to be mindful of other people's communication styles to ensure that they receive what I am trying to communicate to them very well. After this session, I will be more intentional about how I deal with people, bearing in mind that they are not me, and I don't know them. I will also try to ensure that whoever works with me gets all they need from me to succeed at their job. After the session, I felt hopeful, motivated, and confident. Attending this masterclass is a no brainer. Sign up now!"

Barbara Onyejose

Community Manager, Cedar Hive & Co-Working Spaces

"Everything in Akua's session on Procrastination was useful. If you are thinking about attending one of her sessions, you should because she has great energy, is a good listener, and is real. After attending Akua's session I was energized."

Itumeleng Ralebitso

Innovation Mentorship Programme Session Participant

"If you have a chance to join a session by Akua, by all means go for it! During our initial session, I learned that procrastination is a habit, and that applying certain triggers can help change my approach to getting things done. I can now use my time and resources to reach my fullest potential!"

Elita Banda

Innovation Mentorship Programme Session Participant